A couple of weeks ago, we received an e-mail from Piperlime of the Top 10 Trends for Spring 2011...so we decided to add our personal twist to the list by showing some of our favorite finds for each trend. Hope you enjoy!
#1 - Colorful dresses (Mendi's pick)
I've been lusting over this dress for about 6 months. I wanted to get it for my husband's high school reunion back in October, but it wasn't available in my size at the time. Since then, their inventory has been replenished and I'm still loving this dress. Perfect for Spring & Summer events, such as weddings, graduations or even a backyard barbecue. This dress hits right at the knee so my suggestion is this: have your seamstress take the hem up a couple of inches to show a little more leg and flaunt a pair of simple cognac wedges.
Sierra Nevada dress
http://www.shabbyapple.com/
$92
#2 - Espadrilles (Mendi and Jayme's pick)
These adorable espadrille wedges from Steve Madden can be worn with anything from shorts to dresses to jeans. We absolutely love the khaki color because it's so versatile and can go with everything. Dress them up...or dress them down...you can't go wrong. They are worth the investment!
Steve Madden Fantastik Wedges
http://www.piperlime.com/
$80
#
3 - Wide-leg Jeans (Mendi's pick)
So I must admit that I'm slightly biased on this one. I already own these jeans and really, really love them. They might not be as wide-leg as some other jeans out there, but they flare just the perfect amount for me. Here's a little secret: while shopping in Charlotte, NC with my sister last fall, I found these in a boutique marked down to $50. I know, I know...I committed a crime...it felt like I was stealing them. But you can't blame me, right?!?
Seven For All Mankind Dojo Stretch Trouser Jeans
http://www.nordstrom.com/
$155
#4 - Feminine Sandals (Jayme's pick)
OK, so when you see the word feminine you might think along the lines of it being delicate. I don't! I think of delicate accents maybe but not a delicate shoe. The floral accent piece is so beautiful without it being over the top. I'm a huge fan of Steve Madden and I think this might be my favorite shoe for the Spring & Summer. It combines femininity with a little bit of edge and it covers multiple trends (feminine shoe, wedge, platform and canvas). Brilliant!
Steve Madden Tai Wedge in Ivory
http://www.journeys.com/
$49.99
#5 - Bold Prints (Mendi and Jayme's pick)
Who says that the bold print trend has to apply to only clothing??? Not us! We haven't found a bold print that we're loving to wear just yet - maybe we are a little bit scared! But you can incorporate this trend in other ways like bags, wallets, cosmetic bags or even your cell phone cover. Your cell is the one accessory that you never leave home without so why not show it some love too. The iPhone 4 is sleek and gorgeous but a little bit of Kate Spade makes it even hotter!
Kate Spade iPhone 4 Hard Cover
http://www.katespade.com/
$40
#6 - Wedges (Jayme's pick)
I have a love for anything metallic! I also have a love of shoes - so combine the two and you have this fabulous gold shoe for Spring & Summer. They will go with practically anything. This is perhaps the best quality shoe that I have seen in Target (you can't go wrong with the Dolce Vita line created for Target). And the price is insane - a great piece to add to your collection while staying on a budget. There is a zipper in the back which is super cute and there are flecks of gold in the cork heel. They look like they cost way more than they do.
Dolce Vita for Target Women's Cork Sandal in Gold
http://www.target.com/
$29.99
#7 - Ladylike Jackets (Mendi's pick)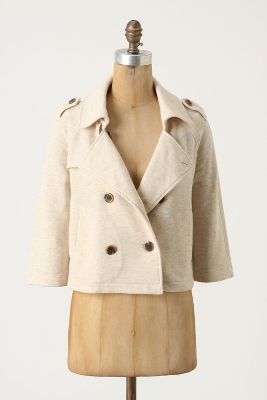 I'm taking a trip to Chicago in May (you'll hear more about that soon) and I feel like this little jacket is a must-have for the windy city...or any city for that matter! I'm expecting mornings in Chicago to be a little on the cool side and walks along the Lakefront to be a tad bit, well, windy. The three-quarter length sleeves and the boxy cut add to the appeal for me. This jacket says "I'm classic and stylish as I sail away on my 40-foot yacht", which works for me, since it's the closest I'll ever get to a 40-foot yacht. A girl should always be dressed for the occasion though, because you never know...(a girl is also allowed to dream...)
By the Bay Jacket
http://www.anthropologie.com/
$78
#8 - Crochet (Mendi and Jayme's pick)
This was one of our least favorite trends as we're not big fans of the crochet look. So it was a stretch for us to find something we thought that we would personally wear. These black crochet wedges from Target fit the bill though. With a 4" heel and a 1" platform sole, the 3" rise is something that we can certainly handle. And you absolutely can't beat the price...gotta love us some Tar-jay! BTW, can you tell that we just love shoes?
Women's Xhilaration Tempie Crochet Wedge Sandal
http://www.target.com/
$24.99
#9 - Wrist Candy (Mendi's pick)
YAY...I'm so glad that this is one of the biggest trends for Spring because I am loving bracelets right now!! Just ask my bank account. I can't get in and out of a store without checking out what kind of bracelets they have. Leather, threaded, metal, multi-strand, single-strand...you name it...I gotta have it. I like to wear a variety of bracelets with one of my watches - all piled up on my left wrist. Rest assured that you'll be seeing LOTS of this trend on Jayme and myself this Spring and probably beyond. My choice for favorite wrist candy hits close to home...as the bracelet shown here is sold by my sister, Shelley (and her best friend Erica), at Boutique on Feet.
200 Orchard
http://www.boutiqueonfeet.com/
$21
#10 - Drapey Sailor Shorts (Mendi's pick)
Yuck...drapey shorts are the last thing that I think would look good on me. (Sorry Spring 2011 Trends List.) So, I'm going to rebel and choose a different kind of short...of the sailor variety. Here I go getting carried away with one of my current obsessions...if it's "nautical-inspired" then I probs need to own it. Needless to say, I'm loving these!
Sailor Chino Short in Waterfall
http://www.jcrew.com/
$68
Let us know what your favorite trends are for Spring 2011 and stay tuned for a future post of our bonus trends that each of us think are on point for this season.