Hope you all are having a FABULOUS weekend!! It's sweltering in VA right now, so we are trying to stay cool. And if you all want to stay "cool" then you will enter our JULY GIVEAWAY!! :-) Mendi's birthday is just around the corner (Monday) and we want to share birthday gifts with you all by sending one lucky reader some goodies from Anthropologie...
a Rather Novel Collection Fragrance Pencil in Taverns & The Hague by Caroline Sabas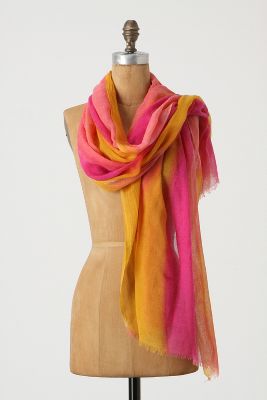 a Lulla Collection Imaginings Scarf
a Stephanie Johnson Pleats and Streaks Cosmetic Bag in Navy
It's easy to enter. See below:
TO ENTER: Comment on this post & let us know in which ways you are following HLNC (via Google Friend Connect, YouTube &/or Twitter). You MUST be following via GFC in order to be eligible (if you aren't already following, just click on the "Join this site" button on the right hand side of this page).
You can receive multiple entries by doing the following:
GIVEAWAY CLOSES: Sunday, July 24th at midnight EST
NUMBER OF WINNERS: One
PRIZE SHIPS: Anywhere!
We will announce the winner here on HLNC on Monday, July 25th...Mendi's birthday!! Be sure to check back here. We will attempt to contact you via one of the three ways in which you follow/subscribe to HLNC. To be sure that you don't miss the announcement, feel free to subscribe to our blog by entering your e-mail address in the "Follow by Email" section on the right hand side of this page. Or if you feel comfortable leaving your e-mail address in the comment, please do so.
Note: This giveaway was funded directly from our pockets...just as a way for us to thank you for all of the support.
Can't wait to pull a winner!! And remember we will have another giveaway next month for Jayme's Birthday!!