About a month ago we decided to participate in
Dreaming of Dimples
and
Living in Yellow
's Holiday Ornament Swap. We were each paired up with two amazing bloggers who we would send ornaments to and we'd also have another two bloggers who would send ornaments to us. (Fun, right?!?) It was a wonderful way to meet some new blogger friends and we thoroughly enjoyed getting to know them, which made shopping for their ornaments so much more personal!! Today is the link-up party, so it's finally time to share the details with you guys...
Anyone who knows Jayme, knows that she loves anything that sparkles and the girl has a love affair with shoes and nail polish, so Jessah nailed it with her ornament and extra goodies!
Lori and I chatted a few times over e-mail, so I slipped her a few hints that my tree "theme" is rustic outdoorsy chic (yes, I think I just made that a "style"). This gorgeous pinecone ornament will fit in perfectly with my red berry twigs and burlap garland.
If you want to see the ornaments that Jayme & I sent to our gift recipients, then you'll have to visit their blogs, so be sure to hop on over to see what Jenn from
Perfectly Imperfect
received from Jayme and what Sami from
Sami's Shenanigans
received from Mendi.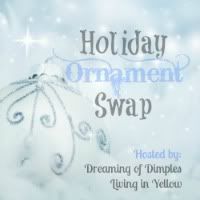 Jayme and her mom are spending the weekend in NYC doing lots of Christmas shopping and enjoying all of the holiday sights...
I don't know about you guys, but I can't wait to hear all about it!!
Hope everyone has a wonderful weekend!!
Mendi