I recently came across a post from
B Loved Boston
blog called
Save or Splurge
and I wanted to jump in on the fun. Please be sure to go over to Biana's blog and say hi! You'll love her!
You guys know that I'll splurge on cosmetics for sure but what about other things in my life. Below are the categories. If you have a blog, I'd love for you to join in and post and if you don't, please let me know in the comments on what you would Save or Splurge.
1. A cocktail dress to wear to a wedding
2. A glass of wine at a restaurant
3. A hotel room
4. A haircut
5. Wild card...you name it!
Here goes...
1.
SAVE!
I tend to say save on this one. I do believe that you can find affordable dresses that work for any type of wedding. I would start looking at
LOFT
and of course wait for those fabulous 40% or 50% off sales. I don't shop there unless they are running a sale. Sometimes
Old Navy
has the cutest most simple dresses that you can get and then make your own. Add a statement necklace, some fabulous heels and don't forget the lipstick!
This dress from
LOFT
is perfect for a fall/winter wedding. It's currently $98 and on sale for 40% off.
2.
SAVE!
I love ordering anything that sparkles when out to eat. You guys know that I love the bubbly! I tend to stick in the $7 or $8 per glass range or I go for the cheapest split they have on the menu.
GASP!
I do love the 'spensive stuff from time to time but lets be honest I also love my $5.99 bottle of Andre from the grocery store! What What!!!
3.
SPLURGE!
I'm definitely known to spend a little more on hotel rooms. I've always been this way about hotels even in my 20's when I really
didn't
have the money spend on nicer hotels. A nice and clean hotel with decent amenities is where I want to be. The bathroom and the view usually does me in! You will never here me say that when I go on vacation that "the room doesn't matter because I don't plan to be inside much". The room always matters! The upside is that nowadays you can book through so many different travel sites that you can save on nicer hotels. I always go through
EBATES
when I book hotels (using Hotels.com, Expedia, Travelocity and many more) so that I can get some really good money back in my pocket! It's like double savings when using
EBATES
!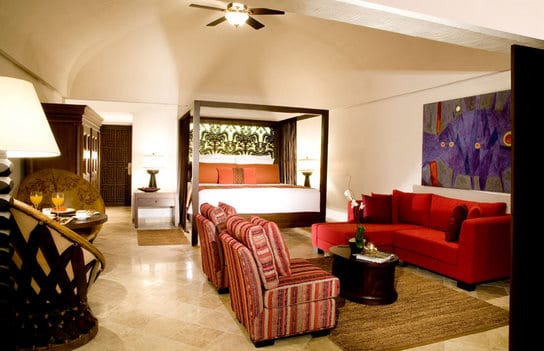 pic via
Dreams Puerto Vallarta (where I got married). The hotel has closed and is changing owners but the rooms were fabulous!
4. SPLURGE! I must first admit that I have had one really terrible haircut/coloring at a "nicer" salon here in town. One that I couldn't believe I actually paid for. However I do truly believe that I get what I'm looking for by spending a little more. I have the cutest stylist right now and her prices are really reasonable compared to what I've spent in the past. I look at getting my hair done as relaxing time for me. It's a way for us girls to take a couple of hours just for ourselves and let someone else make us look and feel beautiful.


Just loving this look! Might have to try this next spring/summer!
5. I've chosen to talk about swimsuits as my WILD CARD option. I say
SPLURGE
on this one. Now let me explain. I have a shape that requires a little more out of my bathing suits than what I get at Target (and I have gotten suits from Target many times before). For my body the cuts offered on the more expensive ones just work better and I also find that the fabric tends to have the perfect amount of stretch and lift without digging in. I do spend more on my bathing suits and I take care of them so that they last for years. And when I say splurge I don't mean that I'm spending hundreds on each. My last few bathing suits came from
Dillard's
and were Kenneth Cole. I think I paid about $80-$90 or so for each suit (I believe they tend to mark down their bathing suits after July 4th). If you don't mind spending a little more, I do think
La Blanca
bathing suits are worth the money too!
It's a bit hard to find swimsuit options this time of year but I did see this one currently available at
Macy's
.
Also available in Black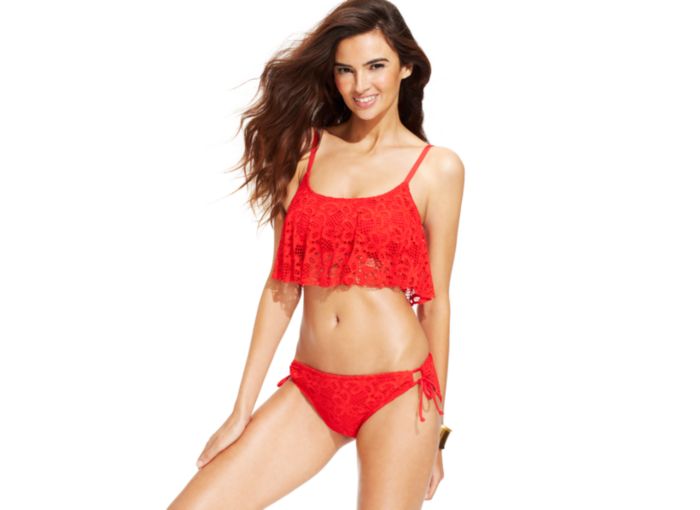 pic via
I hope that you guys enjoyed this post as much as I enjoyed putting it together. I'd love to know your answers.
Do your save or splurge?
Hope you guys have a fabulous Friday!! The weekend is here!! Can I get an AMEN?
JAYME
KEEP UP WITH HER LATE NIGHT CRAVINGS: