It's that time of year! All kinds of deals are already starting to pop up online. Our inbox is overflowing with offers, so we figured why not share them with you guys?!? These deals that we're sharing today are going to end quickly, so get in on them fast! We'll plan to share more with you as the holidays get closer. Happy shopping!
Place any purchase at Fossil.com TODAY, November 21st and get FREE OVERNIGHT SHIPPING (no minimum purchase) with the code FOS1121 at checkout...but you MUST act on this deal today....it's only good through midnight (CDT)!
Gap, Old Navy and Banana Republic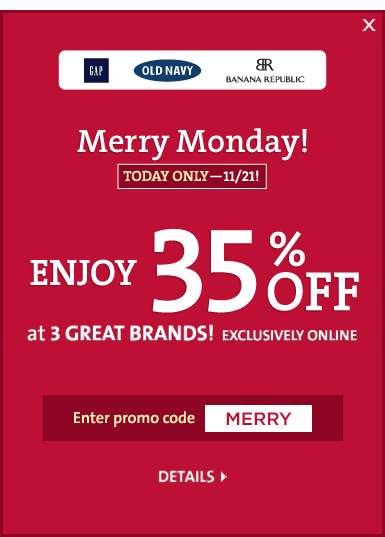 Celebrate Merry Monday with 3 great brands: Gap, Old Navy and Banana Republic. Good TODAY, November 21st ONLY! Take 35% OFF with the code MERRY at checkout.
Now's the time to purchase that butterLONDON polish that you've been craving!
Enjoy 30% OFF your entire order, plus score $5 shipping if you make a purchase over $75! Just use the code CELEBRATE11 at checkout.
Hurry...this deal ends Wednesday, November 23rd!
We hope you guys are able to take part in the great deals going on right now. Let us know if you were able to cross a few gifts off your holiday shopping list!