This is our first time joining in on the Photo A Day challenge created by
Fat Mum Slim
, so please be gentle on us if we dropped the ball at all. Do I sound guilty, or what?!?! Haha. It was definitely fun to stop in the hustle and bustle of (almost) each day to catch a photo pertaining to the day's topic. I'm not sure how much creativity I used, but I think I'll get better at this with practice! You have to walk before you can run, right?? Nonetheless, I hope you guys enjoy taking a glance...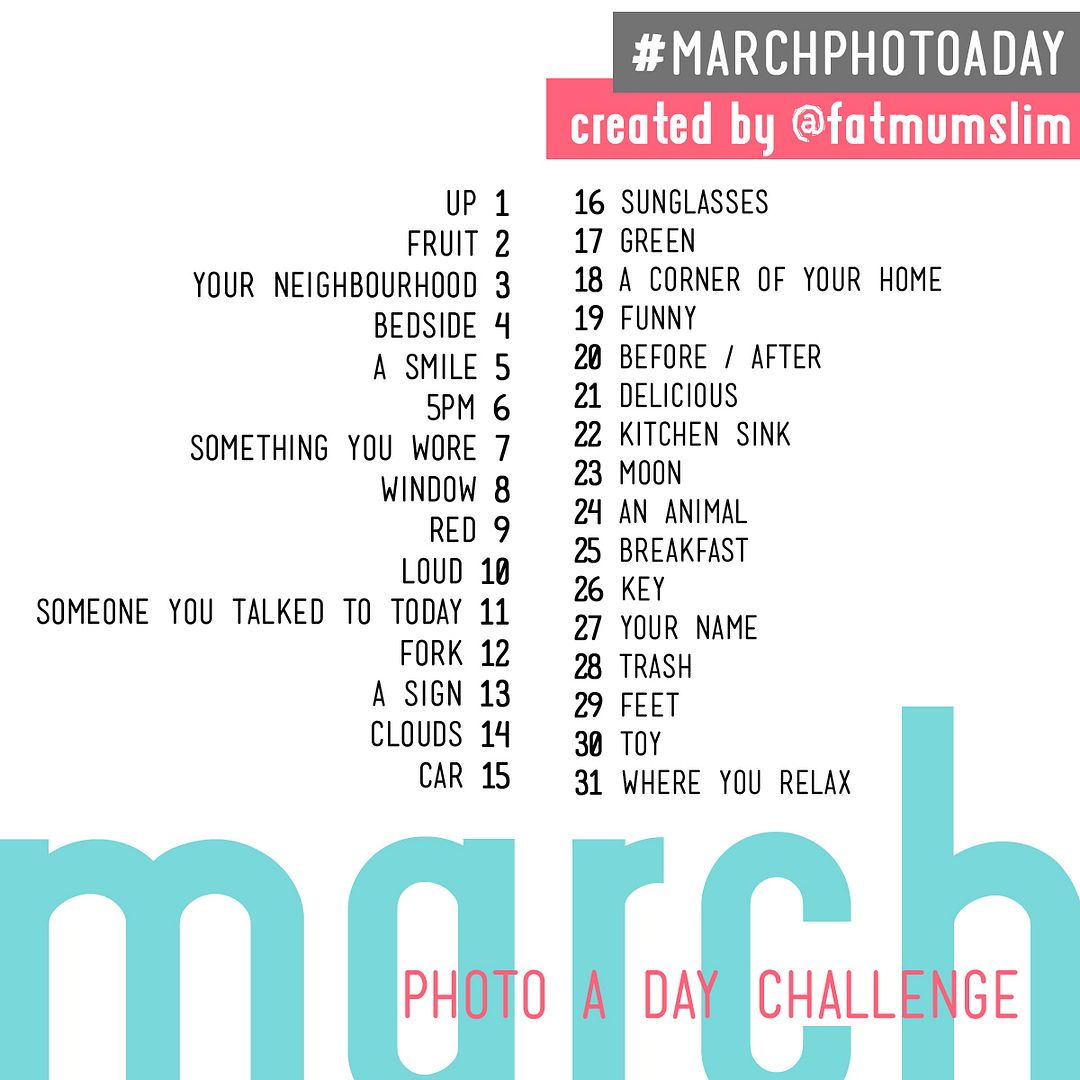 Day 1 -- UP
A view of my UPstairs hallway. Gallery wall, painted stripes & book page wreath all done by moi.
Day 2 -- FRUIT
Do my orange flavored gummy vitamins count?? Winston is trying to creep up in the picture. For a little fake bird, he's such a camera hog.
Day 3 -- YOUR NEIGHBORHOOD
From my garage. I'll be so glad when the trees start to bloom again. Naked trees are so not pretty.
Day 4 -- BEDSIDE
All of my bedtime essentials. And yes, nail polish is a bedtime essential.
Day 5 -- A SMILE
One of my favorite quotes. So true. Make-up is just the icing on the cake.
Day 6 -- 5PM
5PM FAIL. Sorry, I didn't even think about my photo of the day until I was pulling in my driveway at 6:14. Ironically enough though, the song playing on the radio is one of my current faves.
Day 7 -- SOMETHING YOU WORE
My MK shades...a sunny day staple.
Day 8 -- WINDOW
Day 9 -- RED
An obvious choice. I wear red daily. :)
Day 10 -- LOUD
FAIL. What can I say, I like my peace and quiet.
Day 11 -- SOMEONE YOU TALKED TO TODAY
Two of my loves: the hubz and baby girl. We spent a beautiful day in eastern North Carolina retriever training with Zoey. I love capturing the simple moments.
Day 12 -- FORK
FAIL. Hello?? What was I thinking? Certainly I held a fork at some point that day, but apparently my brain was on vacation.
Day 13 -- A SIGN
My first morning Starbucks drive thru run since before Christmas. I gave up my $5 a day non-fat white mocha with whip addiction. Now I'm sticking to iced black tea sweetened with two splendas. Baby steps.
Day 14 -- CLOUDS
Do you guys ever see the tail of a flying jet & wonder where it's headed?? I always wonder if it's somewhere I'd want to go or if the people on board are happy to be bound for their destination.
Day 15 -- CAR
Meet Creamy, that's right, she has a name & she's one of my other loves. With my commute to and from work being 45 minutes each way, Creamy & I spend a lot of time together.
I hope you guys enjoyed going along with me on my daily journey for days 1-15. At the end of the month, Jayme will be sharing her snapshots with you of days 16-31. Be sure to let us know if you are participating in the March Photo A Day challenge, because we'll certainly want to take a look at your pics.