Items Purchased
Revlon Lip Butters in Brown Sugar, Cupcake, Creamcicle & Creme Brulee
L'Oreal Colour Riche Balms in Caring Coral, Plush Plum, Nourishing Nude & Pink Satin
Aussie 3-Minute Miracle
Neutrogena Makeup Remover Wipes
BareMinerals Ready Eyeshadow 8.0 in The Playlist
Marc Jacobs Daisy Eau So Fresh Purse Spray
Garnier Nutritioniste Skin Renew Anti-Puff Eye Roller
L'Oreal EverCreme Sulfate-Free Moisture System Shampoo & Conditioner
Maybelline Eye Studio Color Tattoo Eyeshadows in Tough as Taupe & Pomegranate Punk
YouTube Mentions
Glam Trotter
Glam Life Guru
What have you guys hauled recently? Like we mentioned, we are really curious to see if you like the Revlon Lip Butters or the L'Oreal Colour Riche Balms better. Drop us a comment and let us know what you think!
Oh and by the way, we made a new blogger friend that we wanted to take a minute to introduce you to...meet Samantha from
Petite Femme Jolie
...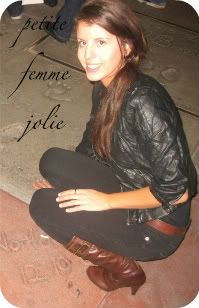 Last week we saw a post on
Crowley Party
about a 2012 New Year Blogging Party and we jumped on the opportunity to participate in this gift exchange and link up. We waited in anticipation to find out who would be our assigned blog partner that we'd get to exchange a care package with, but even more importantly find a fellow blogger who we could connect with and share support...gotta love the blogging community! We're thrilled to be paired up with Samantha and we've thoroughly enjoyed getting to know her through her adorable blog. We encourage you guys to go check it out and show her some love via
HLNC
!