One of our most favorite things to do here at Her Late Night Cravings is to compile a list of examples for you guys of some of our favorite trends for each season. Thanks to the fine folks over at
Piperlime
who inspired us and provided their top 11 (not just 10!) must-have items for fall, today we're putting our own personal stamp of approval on the following:
TREND #1: PENDANTS
Kenneth Cole New York Amethyst Duo Pendant Necklaces
What HLNC says: We love that this purchase is a 2-for-1...wear them together or alone. And amethyst is such a gorgeous stone for fall. A simple way to jazz up a casual outfit.
TREND #2: MIDI SKIRTS & DRESSES
Ya Los Angeles Midi Length Dress
What HLNC says: No doubt, some girls will rock this trend, but we think this one is a toughie. We like how the hemline on this dress is scooped, so that it's shorter on the sides. Pair it with a little leather jacket and you have a great outfit for a night out.
TREND #3: CHUNKY-HEELED BOOTS
Vince Camuto Braden Boot
What HLNC says: HOT! HOT! HOT! We would buy these boots in a heartbeat! From the rich taupe suede to the super high shaft height to the totally manageable 3" stacked heel, these boots are begging to be worn with leggings and an over-sized sweater.
TREND #4: 70'S PLATFORMS
Steve Madden Cirkus-S Platforms
What HLNC says: Can you say Saturday Night Fever??? These 70's-style platforms are like a disco ball on your feet. We'd SO wear these...just sayin'.
TREND #5: CAPES & PONCHOS
Tinley Road Ladylike Wool Cape
What HLNC says: We love this trend and are both itching to join the caped crusaders, but we're curious to see if we'll spot much of this trend happening here in Richmond, Virginia.
TREND #6: BELLBOTTOM FLARES
J Brand Love Story Flare Jeans
What HLNC says: We totally approve of the super dark wash and the large cuff at the hem of these jeans. If you're gonna go for a bellbottom jean, we say "go big or go home!"


TREND #7: SPICY TONES
Tulle Short Vintage Wool Jacket
What HLNC says: Spicy tones...we like the sound of that!! This FAB wool coat screams "I'm ready for cooler temps, but I still want to be hot!" What a great jacket to carry you from the bright colors of summer to the autumnal tones of fall!
TREND #8: HIKER BOOTIES
Heart Soul Kacia Boot
What HLNC says: We are 50/50 on this one. If you're going to try this trend, we definitely recommend staying away from the light tan Timberland-style boots from back in the day. So we think going with a darker color bootie for this style is the only way to go. For example, this boot in hunter green with navy laces is a lot more fun and up to date!
TREND #9: TIE-NECK BLOUSES
Remain Tie Neck Satin Blouse
Nordstrom
= $88.00
What HLNC says:
To be honest we weren't completely sold on the tie-neck blouse trend until we saw this particular top. This blouse had us at hello. We adore the ultra feminine color (ballet pink) and its dainty bow mixed with the longer cut in the back. Business in the front and party in the back! It's the only appropriate way to sport a "mullet".
TREND #10: FAUX FUR
Jack by BB Dakota Janika Faux Fur Vest
Piperlime = $57.00
What HLNC says: So you already know how we feel about faux fur...CAN'T GET ENOUGH! This is a super affordable way to join in the trend, so don't be scared to flaunt some fur and pop your collar.


TREND #11: LADYLIKE BAGS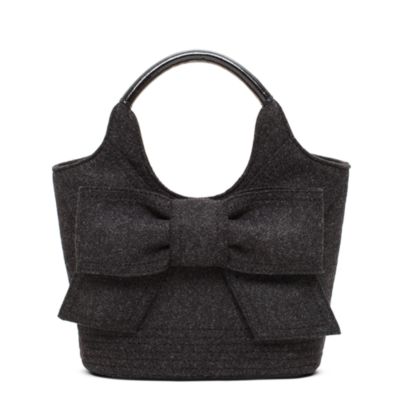 Walker Park Tate
Kate Spade
= $245.00
What HLNC says:
When we think "lady like" we automatically think of Kate Spade. Her brand alone is the epitome of "lady like" and femininity. This bow handbag can be dressed up a bit with a suit or a dress and can easily transition to casual wear when paired with jeans, a crisp white shirt and some suede flats.
We hope you enjoyed our take on these fall trends. We are so excited to hear what you guys think? Are there any that have you running to your favorite store or do you feel like there are some trends that are falling a little flat. We'd love to hear from you!