Hope you guys loved Mendi's picks! Now here are
four
of my favorite...
#1 - Mini Bags/Cross Body Bags/Bold Color
This bag is a triple threat of sorts - it's bold, it's mini and it's a cross body. Orange...really? Well Michael calls it Tangerine and I love me some Michael. This is such a hot color right now. We've seen this bright and bold color all over the internet and in fashion magazines. I have to say that I'm craving this bag hardcore! It is the perfect accessory to give your outfit that splash of color without being overdone. Check out the Nordstrom website and you can find more beautiful bold and neutral colors (Garden, Sun, Vanilla and Gold to name a few). This is definitely on my wish list.
Michael Kors Charlton Cross Body Bag in Tangerine
www.nordstrom.com
$128
#2 - Coral Nails & Lips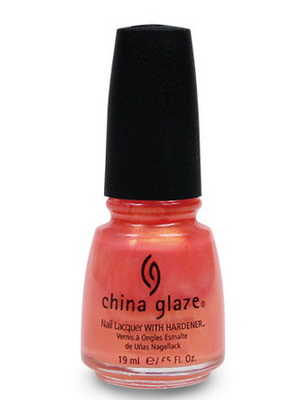 This is a bright and shimmery coral that is not overbearing at all. I think this color would work on just about any skin tone. I bought this polish recently and have already worn it. Now this may have been in my head (that happens from time to time), but I felt like my hands looked a little more tan once I used this color. And let me just say that I'm so not tan right now! One thing I love to do is a statement nail and I'm obsessed with Teenage Dream by OPI Katy Perry Collection (I mentioned this one in our March Favorites video). I use this glitter over two coats of Thataway on both ring fingers and it's the perfect combo.
China Glaze Nail Lacquer in Thataway
$5.99 (or sometimes you can find China Glaze on sale at Sally for 2 for $10)
I also own this lip gloss. It's on the softer side of coral because it's sheer and shimmery. You are going to get just a hint of color. I think it's the perfect shade to use as a stepping stone to a bolder coral lip. The Lip Junkie cools and plumps which is an added benefit to make your pout beautiful. Since it is a plumping gloss it does have a tingle and a light minty scent but it's not harsh so don't worry.
Urban Decay Lip Junkie Lip Gloss in Runaway (gloss in the middle)
www.sephora.com
$19
#3 - Rose Gold
Now this baby might be a bit of a splurge because it's a little pricey and Rose Gold is very trendy right now. Although I do think that this color will be around for awhile. I told you how much I love Michael (like how I call him by his first name like we are friends??) and I think he knocked this trend out of the park. This watch is HOT! I'll be honest, at first when I saw this metal I was a little hesitant, but the more I see it the more I have fallen in love. The cool thing about Rose Gold is that you can mix and match with silver and gold - layer anything you want with this watch and you will be good to go. There are other great watches out there in Rose Gold at more budget friendly prices but this one just does it for me. It's a little bit feminine but very masculine at the same time. LOVE IT!
Michael Kors Bel Aire Chronograph Watch in Rose Gold
www.nordstrom.com
$250
#4 - Canvas
I'm insane when it comes to shoes. Some might call it an addiction...I'd just say that I'm
passionate
about footwear. Anyway I'm loving the canvas trend that's happening right now too! This shoe has a platform stacked heel, t-strap and is in an Olive color that will go with so much in my closet. Unlisted by Kenneth Cole is a great way to have some KC while not breaking the bank. Canvas is a must have this season and it doesn't have to be in a shoe - there are some great bags and jackets out there too!
Unlisted by Kenneth Cole Big Event in Olive Green
$59