I don't mean wear it home as in I
just
bought some awesome shoes at DSW and must wear them out of the store. And yes, I have done that...a few times. I'm not scared!
Have you ever thought about taking
something
that you
have
in your closet and using it for inspiration in decorating your home?
Mendi and I love the idea of
incorporating
our fashion sense into our home decor. Let's take a look. While
perusing
the web I came across the below picture of Selena Gomez. We love stripes (see Mendi's Bonus Trend's post) and think that the black and white wide stripe tunic that Selena is wearing is totally adorable. It's fresh, fun and so in!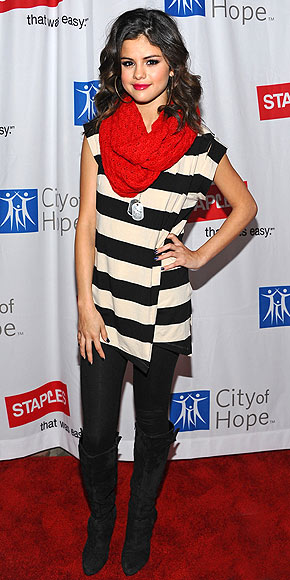 Photo Credit: Angela Weiss/Getty
Now how do you pull one of your favorite fashion trends into your home? Start with something as simple as a throw pillow. Accent pieces like pillows can inject your style, follow trends and best of all, are the easiest way to add some flavor without spending a ton of money. Mendi pulled a wide black and white striped pillow into the bedding in her guest bedroom. It was so easy to incorporate her love of stripes into her decor. It looks fresh and fun - just like Selena's tunic. Love this look and it's foolproof - anyone can do this!
Photo Credit: Mendi
On a side note, I won't get into Mendi's secret love of throw pillows...that will have to be it's own post. There is a rumor that she even has a closet specifically for throw pillows. OK she doesn't really but she does have enough that she can refresh her decor in a moments notice.
And like I said you don't have to pay a lot to upgrade your look. She found this pillow at TJ Maxx for a steal. Other great budget friendly stores to try - Target, Marshall's, Steinmart and Home Goods. And don't be afraid to go into your local Wal-Mart (I know, I know...that's just crazy talk). But I did find a couple of orange pillows there that are thrown on my couch (and orange is so in this season - see my Bonus Trend's post).
Please let us know how you've incorporated your fashion style into your home. Or better yet, please send us an email of what you have done - we are always looking for inspiration!
Jayme